Welcome to our Main Settings Menu! In here, you can easily create your profile, license your software, and customize our software to meet your specific needs.
Under our Main Toolbar, you can do the following with our tools:
Enable/disable your Auto-Save Function and AutoSync Function, while adjusting your time span between each save. Please note that if your autosave/sync does not go through, it will attempt again until it does go through properly.
Set A Custom Logo In Your General Menu's
Set Custom Create Project Logos
Adjust Detail Setting Paths (Used in place of Insert Views —> Insert Views From File.
Ability to Export, Import and Password Protect Your Settings.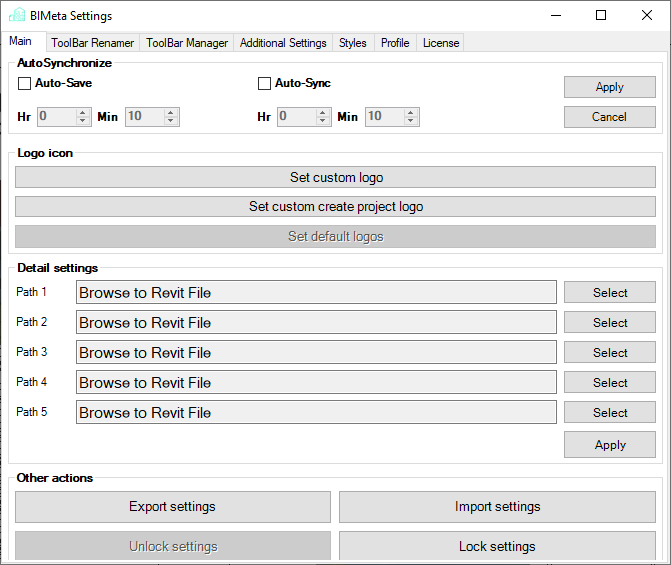 Under our Toolbar Renamer Tab, you can do the follow:
Adjust The Name Of Each Tab Or Panel
Move The Default Panels Either Up/Down
Understand Whether The Original Toolbar Is Visible or Not (Not visible if no plugins are enabled).
Apply or Cancel Changes
Under the Toolbar Manager Tab, you can do the following:
Rename Each Individual Button
Change The Tooltip Advise
Establish Which Panel The Button Is Located Under
Enable/Disable The Button
Alter either Small and/or Large Images
Add New Panels For Your Team Members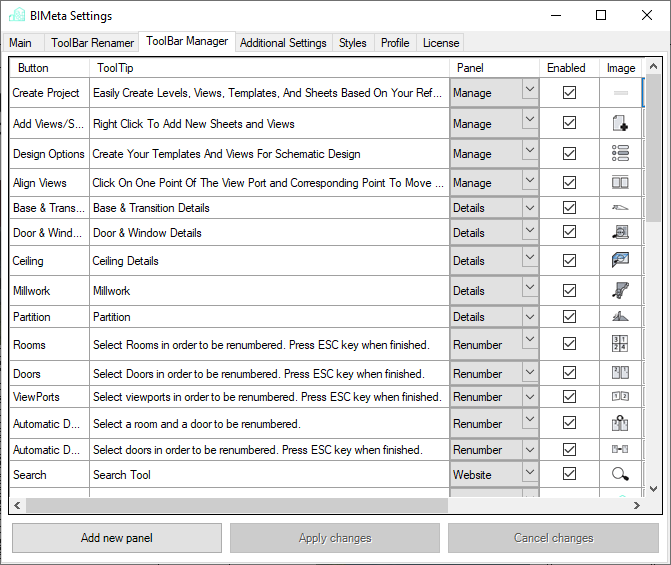 Under The Additional Settings Tab, you can do the following:
Set Button Names
Set Specific Naming For The Button
Adjust The Tooltip Advise As Required
Set Either A Linestyle, Region and/or Detail Family Component
Set Standard Icons for each specific Item
The Purpose Of These Tools Enable the user to easily and efficiently Keyboard Shortcut Lineweights, Regions, and Detail Family Components without even needing to touch a toolbar.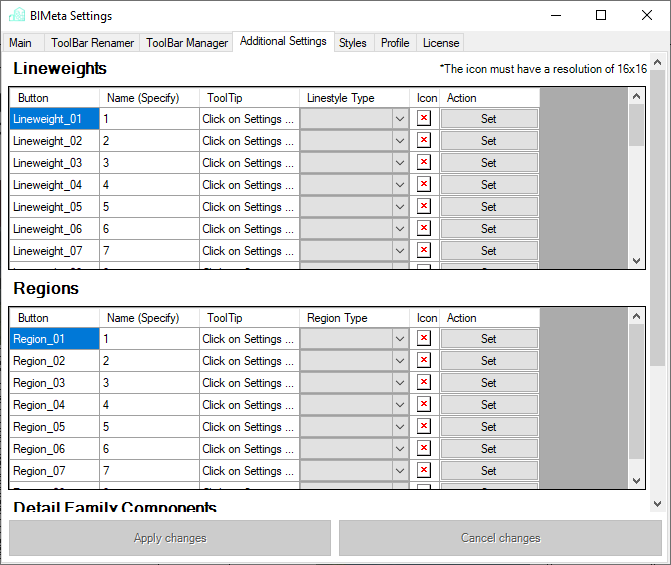 Under the Styles Tab, you can easily and efficiently adjust the following to your company:
Create new Styles / Aesthetics To The Toolbar
Adjust the fonts of both existing and new toolbars
Adjust Sizing Fonts, Font Weights, And Font Styles
Add Additional Colors To The Panel Backgrounds utilizing image settings, opacity, or brushes.
Ability to Alter Ribbon Alignment Amongst the Toolbar.
This specific tools allow you to customize the toolbar / main menu to meet your companies needs, and brand.
Under the Profile Tab, you can easily create the following profile by either logging in and/or registering. Once you are registered, you can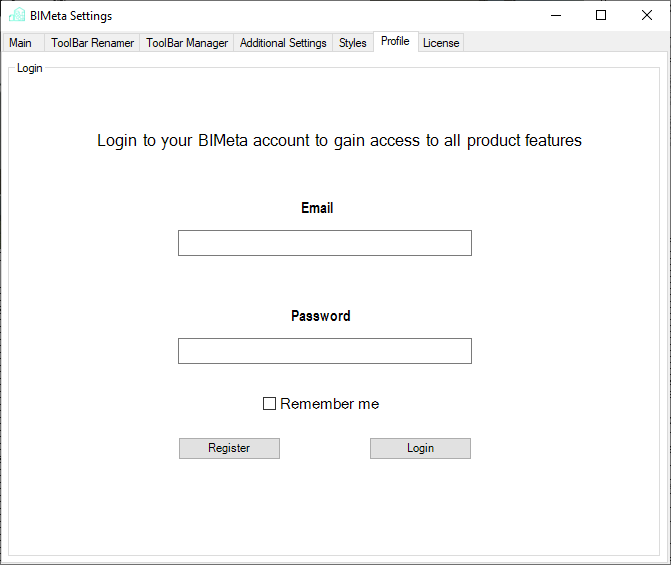 By registering, you can enter in your email address, full name, password and confirm your password. After your register, you will be able to Enable a 30 day trial under the license tab. Please note that you need to confirm your acount before being able to log in.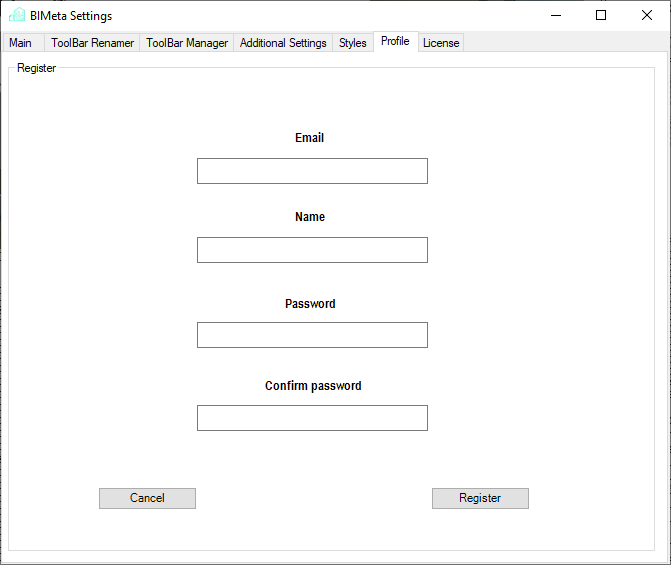 Finally under the License Tab, you can either enable your 30-Day License, and/or Purchase A License through our main website. if you have any questions or concerns, do not hesitate to contact our Support Team.